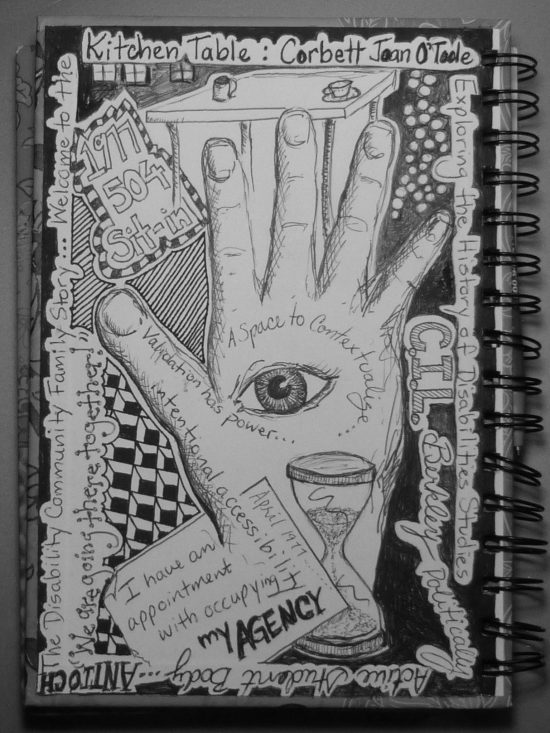 Art by Leah Kelley drawn during a talk by Corbett showing a large hand with an eye on the back of the hand and an hourglass on the wrist. In the background is part of a building and a table with 2 mugs.
Text randomly placed in the drawing:
Exploring the History of Disabilities Studies. 
CIL Berkeley, politically active student body…ANTIOCH. 
The disability community family story…welcome to the Kitchen Table: Corbett Joan O'Toole. 
We are going there together. 1977 504 Sit-in. Validation has power. A space to contextualize…April 1977…intentional accessibility. 
I have an appointment with occupying my AGENCY.
Selected talks that changed conversations
Seeing Frida Kahlo Through Disabled Peoples Perspectives, DeYoung Museum, San Francisco
Cripping the Library: Exploring the Intersections of Access, Privilege and Text through Disability, Sexuality and Race. Doe Library. University of California, Berkeley
Cripping the Quilt: Explorations of Disability and Art. San Francisco Art Institute
Intersections of Disability, Race and Class in late 20th Century History. University of Arizona.
Creating Accessibility to Text. Longmore Institute, San Francisco
Disability History. Yale University
Cripping Sexuality. Yale University
Is Heaven Only for Nondisabled People? Unitarian Society of Hartford, CT
Free to Pee: Makeathon. San Francisco
Queer Disability Challenges to Sociology. American Sociological Association, San Francisco
We Were There: Stories of Disability History. Invited Lecture. University of Illinois, Chicago
Disclosing our Relationships to Disability and Reflexivity in Research: A Conversation. Disability Disclosure in/and Higher Education, University of Delaware
Reproductive and health issues for women with disabilities. Keynote speech. Sexuality and disability conference. Honolulu.
Building Bridges Between Disabled and Nondisabled Women. Fifth International Interdisciplinary Congress on Women, San José, Costa Rica.
Disability, Eugenics and Reproductive Rights, Abortion and Reproductive Rights Conference, Hampshire College, Amherst, Massachusetts
Disabled Women: Isms and Phobias. National Conference on Women and the Law, Oakland, CA.
Disabled Women and Title VII. National Conference on Women and the Law, Oakland, CA.
Barriers Facing Disabled Girls and their Mothers in Health Care, Legislative Briefing on Disabled Girls and Young Women in Health Care, Sacramento, CA
Perspectives of the Disabled Mother of a Disabled Daughter: Implications for Education, Congressional Briefing on Disabled Girls and Young Women in Education, Washington, D.C.
Leadership development for women with disabilities. Women's rights: deaf and disabled women in California conference. Los Angeles
Health Concerns for Sexual Minority Disabled Women. Centers for Disease Control Conference on Women with Disabilities, San Antonio, Texas
Disability Rights meets NeuroQueer. TASH. Washington, D.C.
Gender and Disability: Challenges for Disability Studies, University of Illinois at Chicago, November 2001, Chicago
Integrating Parenting, Disability and Advocacy. Southern Connecticut Annual Women's Studies Conference, New Haven, Connecticut
The Sexist Inheritance of the Disability Movement, Gender and Disability, Rutgers University
Sexual Minority Identity Among Women with Disabilities, Disability, Sexuality and Culture Conference: Societal & Experiential Perspectives on Multiple Identities, San Francisco, California
Sexuality issues for women with disabilities. International Forum on Women with Disabilities. Bethesda, MD.
Parents with Disabilities: Challenges for I & R, California Child Care Resource and Referral Network Conference, Asilomar, California
Parenting with a Disability: Considerations for Pediatricians, Children's Hospital, Oakland, California